The majestic Himalayan ranges have the capacity to take you to new heights, physically as well as mentally. It is a rare and wonderful opportunity indeed and needs to be experienced to be understood. The flora and fauna changes frequently from lush green pastures with bullocks and sheeps to scrubby bush and bare rock with marmots playing hide and seek. There are chance encounters with local village folk ranging from the gaddi people (sheppards) to nomads roaming the vast and bare plateaus. The terrain can change from warm lush river valleys to icy glaciers which send a shiver down your spine...all in a matter of day. Each season brings its own magic whether it is the freshness of April in the approaching summer or the oncoming winter tentacles of September. It is the experience of a lifetime and not to be missed.
At HCA we make sure that this experience is not dimmed. We tailor our treks to your physical stamina ranging from small day treks to those lasting a few weeks. Our groups are small to ensure that the soul searing beauty is not overshadowed by the presence of too many people. Our aim is explore rather than exploit nature and we pride ourselves in exploring new and unfrequented areas. Come join us and let us show you the magic which is the Indian Himalayas.
Bara Bhangal
An enchanting trek linking the Kullu valley with the Kangra Valley separated by the magnificent Dhauladhar range. Few tread its path each year, but those who do get to experience picturesque Himalayan vistas filled with myriad streams, evergreen forests and lush green meadows strewn with a variety of wild alpine flowers. The lack of human habitation during this trek adds further to its lonesome beauty
Duration and toughness – At a medium pace the trek is covered over 13 days. Given the number of days and two high altitude passes enroute (>15000 feet), this trek requires a high degree of physical fitness and preferable some prior trekking experience.
Season – Mid June to September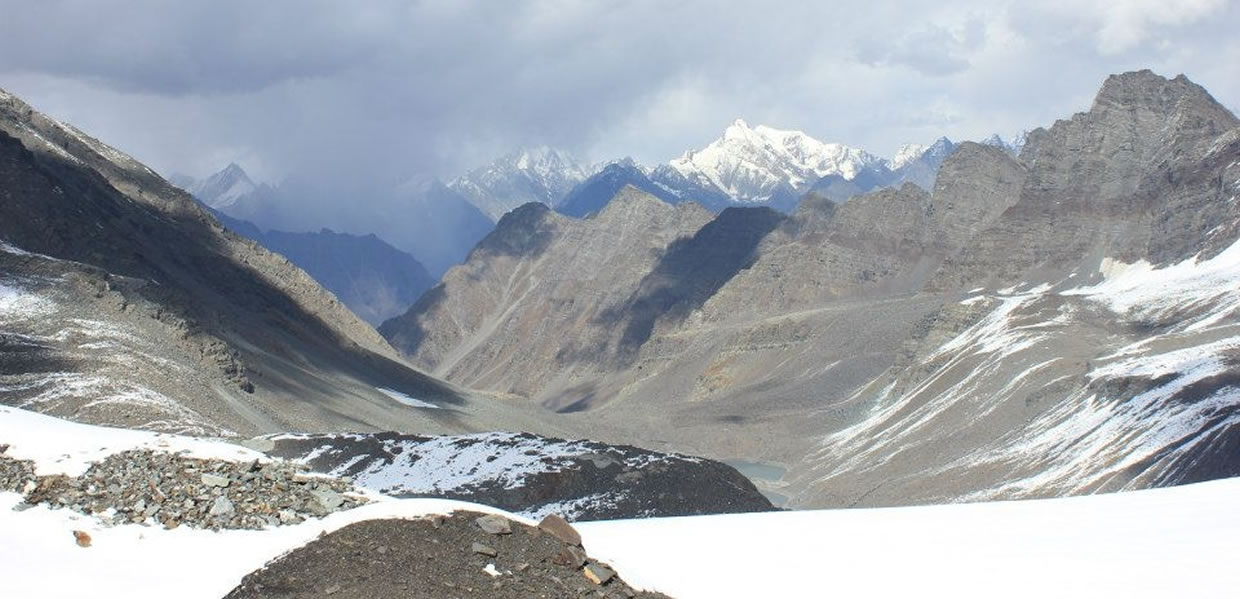 ---
Kibber to Tso Morriri
In terms of the sheer diversity of landscape, climate and culture one get to experience, this trek stands out among the others in the Western Himalayan region. One gets to experience the lush green beauty of the Kullu Valley, the haunting and majestic beauty of the Spiti valley and the desolate beauty of the Changthang Plateau. En-route one has to cross 4-5 high altitude passes which challenge and bring out the best in you.
Duration and toughness - At a medium pace the trek is covered over 13-15 days. Long duration, high altitude and rugged terrain require a high level of fitness and prior trekking experience. Acclimatization is essential in this trek
Season – Beginning July to end August
---
Animal Pass
Experience the lush green Tosh valley as you wind your across another pristine and secluded trail. The only people you are likely to encounter are the local gaddi people as they graze their sheeps on the mountains around you. Cross turquoise blue lakes enroute and be rewarded at the end with a view of the magnificent Malana glacier along with the towering peaks of Deo Tibba, Papsura and Dharamsura
Duration and toughness – At a medium pace the trek is covered in 5 days.  With only one high altitude pass at the end, this trek can be done with a moderate level of fitness
Season – April to June and September to October
---
Kalihani Pass and base camp
One of the few wilderness treks left in the Western Himalayas, this trek passes through lush green and seldom trot mountain paths set to a backdrop of majestic mountain peaks. In local language Kalihani means black glacier and this can be witnessed atop the pass as the old ice formations of the ancient glacier. Pristine white snow covered fields, daunting moraines set alongside the gushing river and snow fed glacier make this a truly exhilarating trek.
Duration and toughness – At a medium pace the trek is covered in 6 days.  With only one high altitude pass, albeit with a steep approach, this trek requires a moderate level of fitness and experience.
Season - April to June and September to October