The core team at Himalayan Caravan is a small, young and friendly group of adventure enthusiasts who prefer the great outdoors to office spaces. We are in the business of adventure travel simply because we love what we do! We hope to use our skills, experience and life-long hobby to help you get the most out of your trip.
Ravi Thakur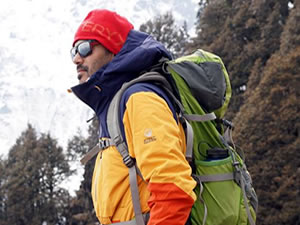 A true mountain lad, Ravi started wandering off into the mountains around Manali as soon as he could walk. And has never looked back since then. Over the years, he taught himself the basics of rock climbing, bouldering, rappelling, trekking, canyoning, mountaineering, skiing, snowboarding, map reading, camping, outdoor survival, and other ancillary skills. He then learned the finer points and technical skills from various experts in these fields, and also honed his skills as a trip leader.
He has been leading treks, climbs, and expeditions in the Himalayan region since 1991, and is intimately familiar with the terrain. He usually leads groups comprising of more experienced trekkers, technical climbers and seasoned mountaineers who come to the Manali region for more challenging experiences and higher altitudes.
Ravi especially enjoys winter outings, and is himself a highly skilled skier, snowboarder and snowshoe trekker; he also conducts training programs for these activities.
He is passionate about safety, and is often called to participate in search-and-rescue missions in the region.
You can follow Ravi at https://www.facebook.com/ravi.thakur.583
Inder Thakur
Following in big brother Ravi's footsteps, Inder also took to the mountains at a very early age. Over the years, while gaining knowledge of local terrain, he also focused on building his endurance, and is today considered one of the best trip leaders, especially for long and arduous treks and expeditions across the Himalayan region.
Being more of an extrovert than his brother, Inder is often the trip leader of choice for the younger groups from across the world that come to Manali for adventure activities.
Follow Inder at www.facebook.com/Inder.Thakur
Raj Kumar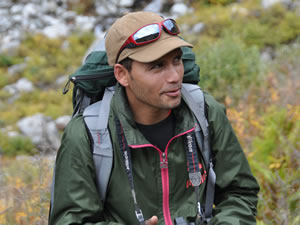 Growing up in the forest regions around Manali, Raju learned about the local flora and fauna from his father and uncle, who were expert foragers of edible and medicinal herbs and plants of the region. Over time, his fascination with the mountains developed well beyond what grew there, and today, Raju is a highly popular trip leader for treks, climbs, mountaineering trips as well as winter expeditions for HCA.
Given his simple nature, child-like innocence and ever-present smile, Raju is often called upon to lead groups with a wide age spectrum, since he can relate with equal ease with the younger as well as the grown up members of a group.
Find Raju on Facebook at www.facebook.com/Rajkumar.Raj